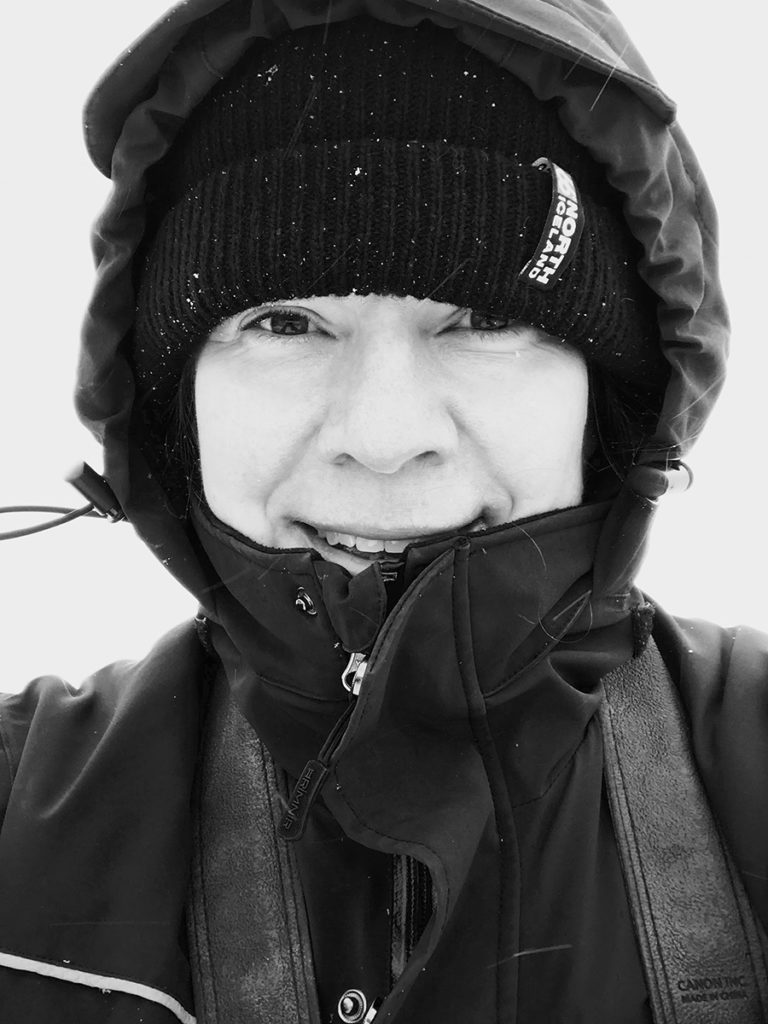 Much of what's wrong with the world today is rooted in the belief that we are somehow above or separated from it, that the rest of Creation is merely a backdrop for our human activities. The result is widespread destruction, disconnection, and mental disease.
We've only just begun to realize that we need to shift our paradigms.
Horses are important allies to me in this endeavour, gifted with senses that we as humans have long lost or never attained. They serve as a window into a world so much richer than our merely human one, reconnecting us back to ourselves and our place in the more-than-human cosmos.
It is in Iceland, with the elements still largely untamed and the landscape stripped of all things unnecessary, where I find my perfect canvas to express these ideas:
That we need to rewild our sensory perception, as an enrichment to our purely intellectual approach of tackling today's issues –
A deeply emotional one.
Drawn to the natural world since early childhood, Birgit first set foot on Iceland in the late 20th century. The country hasn't left her since.
With degrees both in Equine Studies and Media Design, as well as years of experience in each field, she quit her job in the finance industry and gave in to her calling as an artist in 2015. She finds inspiration in the paintings of Romanticism, in writings of contemporary nature philosophy as well as ancient mythology, and above all, in nature itself.
She prefers to work with her subjects in maximum possible freedom, leaving it up to the animals how they want to express themselves in a particular moment.
Birgit is currently based between Germany and Iceland, working on several long-term projects. Her work is displayed in homes throughout the European continent, in Iceland and the United States.
Tokyo International Foto Awards (TIFA) 2021:

Gold for Heroes in "Nature/Pets"
Honorable Mention for Change is Constant in "Nature/Pets"

ND Awards 2021:

1st Place for Hríð in "Nature/Other Professional"
Honorable Mention for Heroes in "Nature/Other Professional"
Honorable Mention for Totem: Studies of Transient Union in "Nature/Other Professional"

FineArt Photography Awards (FAPA) 2020:

Nominee for Heroes in "Animals/Wildlife Pro"
Nominee for YY – Let's Twist Again in "Animals/Wildlife Pro"
Nominee for Spirit of Andalusia in "Travel Pro"

International Photography Awards (IPA) 2019:

Honorable Mention for Heroes in "Pets Professional"
FotoNostrum Magazine October 2021:
Feature article (10 photographs)
Merkur March 2020:
Feature article (1 photograph)
CAVALLO 2/20:
Feature article (1 photograph)
CAVALLO 9/19:
"Paradies auf 1000 Meter" (13 photographs)
CAVALLO 5/19:
"Sanfte Spanier" (11 photographs)
Isi Rider 1/19:
Feature article (14 photographs)
CAVALLO 12/18:
"Auf nach Hause!" (10 photographs)
DAS ISLANDPFERD 5/16:
"Endlose Tage und sorglose Pferde" (5 photographs)
Various magazine and book covers
Ethics and Responsibility
I am a member and proudly support the principles of Nature First, a worldwide alliance of photographers who pledge to minimize their impact on the environment.
Principles | On NFTs
I am currently looking for NGOs to collaborate with and process a part of my revenue to. If you work for an environmental non-profit and feel that our values align, get in touch to discuss a potential partnership.